浜野 海士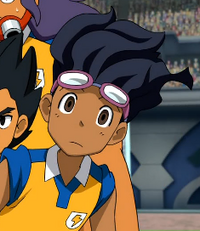 Información

Nombre de Pila (JP)

Hamano

Nombre Dob

Adé Kébé

Nacionalidad

Japonesa

Genero

Masculino
Apariencia

Color Pelo

Azul marino

Color Ojos

Marrones
Información Equipo

Equipo Actual

Posicion

Centrocampista

Numero

6

Afinidad

Aire
Voces

Seiyuu

Jun Konno

Español

Desconocido
Adé Kébé
(浜野 海士) es un centrocampista del
Raimon
.
Apariencia
Edit
Tiene el pelo largo liso y en punta de color azul muy oscuro. Tiene ojos grandes de color marrón y cejas lisas negras. Él lleva unas gafas de surfista en la frente de color violeta. Él tiene la piel morena. Viste el uniforme del Raimon.
Ad blocker interference detected!
Wikia is a free-to-use site that makes money from advertising. We have a modified experience for viewers using ad blockers

Wikia is not accessible if you've made further modifications. Remove the custom ad blocker rule(s) and the page will load as expected.