霧野蘭丸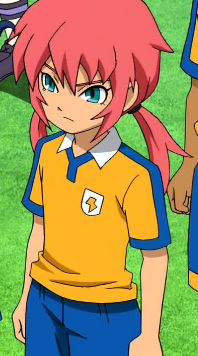 Información

Nombre de Pila (JP)

Ranmaru

Nombre Dob

Gabriel García

Nacionalidad

Japonesa

Genero

Masculino
Apariencia

Color Pelo

Rosa

Color Ojos

Celste
Información Equipo

Equipo Actual

Posicion

Defensas

Numero

3

Afinidad

Bosque
Voces

Seiyuu

Kobayashi Yuu

Español

Desconocido
Gabriel García
(霧野蘭丸) es un defensa del
Raimon
.
Apariencia
Edit
Gabriel tiene el pelo largo de color rosa repartido en dos coletas y ojos celestes grandes. Viste el uniforme del Raimon.
Su primera aparición fue en el
episodio 1
junto con el
Raimon
para ver quién sería elegido por el
Nuevo Inazuma Japón
. Mientras pensaba que iba a ser elegido, se sorprendió y le sorprendió que él no fuera elegido en absoluto con
J.P
y
Ryoma Nishiki
.
Más tarde, se le vio mirando el partido de exhibición del Nuevo Inazuma Japón y la Royal Academy y le deseó buena suerte a Riccardo Di Rigo, que los dos se miraron y asintieron. Estaba muy sorprendido de que el equipo de Nuevo Inazuma Japón fue muy malo, e incluso perdió con 10-1, dejando a los miembros del Raimon decepcionados por no haber sido elegidos y el equipo peor, ya que la Royal era mucho mejor que ellos.
Ad blocker interference detected!
Wikia is a free-to-use site that makes money from advertising. We have a modified experience for viewers using ad blockers

Wikia is not accessible if you've made further modifications. Remove the custom ad blocker rule(s) and the page will load as expected.