Ráfaga Explosiva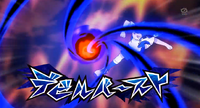 Información
Kanji

デビルバースト

Nombre Doblaje

Desconocido

Afinidad

Fuego

Tipo

Tiro

Característica

Normal

Usuarios

1

Evolución

Normal → G2 → G3 → G4 → GX
Ráfaga Explosiva (デビルバースト) es una supertécnica de tiro de Victor Blade.
Información
Edit
Se usa por primera vez en el Episodio 3 por Victor Blade en el partido del Nuevo Inazuma Japón y los Dragones de Fuego. Victor lo usó para marcar el gol de la victoria para el Nuevo Inazuma Japón. El partido acabó con 2-1 a favor del Inazuma Japón.
Presentación
Edit
Ad blocker interference detected!
Wikia is a free-to-use site that makes money from advertising. We have a modified experience for viewers using ad blockers

Wikia is not accessible if you've made further modifications. Remove the custom ad blocker rule(s) and the page will load as expected.