Raimon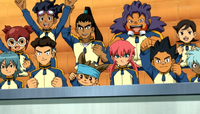 Información
Kanji

雷門

Nombre Doblaje

Raimon

Capitán

Entrenador

Ninguno

Derrotas

0

Victorias

0
Raimon (雷門 en japonés) es un equipo de fútbol.
Información
Edit
Este equipo aparece en el episodio 1 e le Estadio Holy Road con otros muchos equipos. Ellos esperaban ser seleccionado para el Nuevo Inazuma Japón, pero solo Arion Sherwind, Victor Blade y Riccardo Di Rigo, fueron seleccionados. Después de ser seleccionados, el resto del equipo animó a Arion, Victor y a Riccardo.
Centrocampistas
Edit
Delanteros
Edit
Ad blocker interference detected!
Wikia is a free-to-use site that makes money from advertising. We have a modified experience for viewers using ad blockers

Wikia is not accessible if you've made further modifications. Remove the custom ad blocker rule(s) and the page will load as expected.