Viento Celestial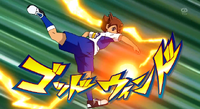 Información
Kanji

ゴッドウィンド

Nombre Doblaje

Desconocido

Afinidad

Aire

Tipo

Tiro

Característica

Normal

Usuarios

1

Evolución

Normal → 改 → 真 → 絶
Debut

Juego

Manga

Desconocido

Anime
Viento Celestial (ゴッドウィンド en japonés) es una supertécnica de tiro  de Inazuma Eleven GO Galaxy usada por Arion Sherwind.
Inazuma Eleven GO Galaxy
Edit
Información
Edit
Esta supertécnica fue usada por primera vez en el Episodio 3 por Arion Sherwind en el partido del Nuevo Inazuma Japón y los Dragones de Fuego. Lo usó para marca un gol a los Dragones de Fuego, y lo logró, rompiendo el Rechace de Fuego de Nam Do-Hyeon.
Presentación
Edit
Ad blocker interference detected!
Wikia is a free-to-use site that makes money from advertising. We have a modified experience for viewers using ad blockers

Wikia is not accessible if you've made further modifications. Remove the custom ad blocker rule(s) and the page will load as expected.