天城大地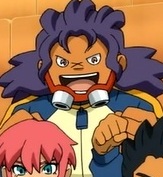 Información

Nombre de Pila (JP)

Daichi

Nombre Dob

Wanli ChangCheng

Nacionalidad

Jaonesa

Genero

Masculino
Apariencia

Color Pelo

Violeta

Color Ojos

Violetas
Información Equipo

Equipo Actual

Posicion

Defensa

Numero

4

Afinidad

Montaña
Voces

Seiyuu

Desconocido

Español

Desconocido
Wanli ChangCheng
(
天城大地
en japonés) es un defensa del
Raimon
.
Apariencia
Edit
Tiene el pelo largo de color violeta oscuro y los ojos pequeños de color violeta. Él tiene la piel oscura y lleva unas gafas grandes de color rojo y negro bajo su barbilla. También, tiene una cicatriz con forma de "x" sobre su nariz. Viste el uniforme del Raimon y el chandal. 
Ad blocker interference detected!
Wikia is a free-to-use site that makes money from advertising. We have a modified experience for viewers using ad blockers

Wikia is not accessible if you've made further modifications. Remove the custom ad blocker rule(s) and the page will load as expected.